Link – Pre-season Check List & Equipment Advice.
Please read our 1 page pre-season checklist and equipment advice (before purchasing equipment).
Link – Swiss Sportshaus Race Pricing
(new race ski, boot, & binding prices are standardized across shops).
Ski Swap warning: go prepared….unsuitable equipment is often purchased at ski swaps.
Please see Check list link above before going to the Turkey Sale or a Ski Swap.
Equipment Size/Flex Charts 
Size charts below are a good benchmark (for any brand of race ski or race boot).
Recommended size ranges are: Ski Size: chart to chart+2 (lb range).  Boot Flex: chart-1 to chart+1 .
Decisions to factor in skill, aggressiveness, strength.
Boot flex recommendation are shown on the far right of the chart.
Link: Sizing Chart – (last page)_2016-2017 (Rossi/Dynastar)
Below: Sizing Chart – 2017/18 (Rossignol)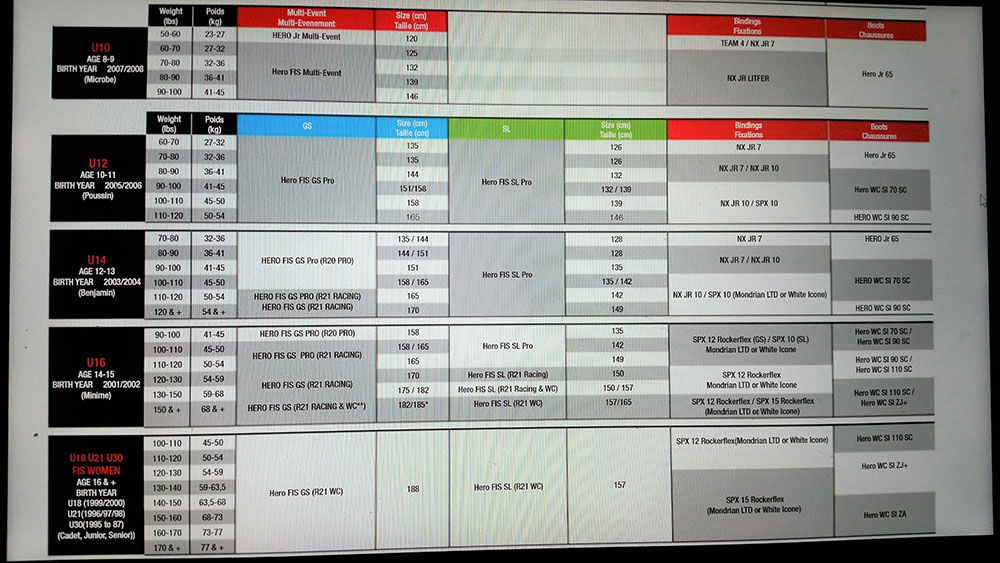 Early season equipment questions: email your coach or Mark at [email protected].